Strawberries are the fruit that we all love no matter how many years go by. Its taste is really exquisite and gives us unforgettable sensations. They would even be part of several memories in which they have been responsible for making them unforgettable. Its flavor is the best and many people love it. But growing your own strawberries can make this feel even more sensational and unforgettable. In this article, I will tell you exactly how to grow strawberries in pots from seeds.
Strawberries are aphrodisiac (Aphrodisiacs are also called love drug, their consumption increases Libido level. Whereas, Libido is a person sexual desire. So consumption of strawberries increases sexual desire) and there are different types of them around the world. There are billions of strawberry lovers and each of them has different experiences. In addition, you can enjoy them with whatever you like: Chocolate, condensed milk, and even other fruits.
Unlock the potential of your garden with GreenhousePlanter – explore our PRODUCTS today!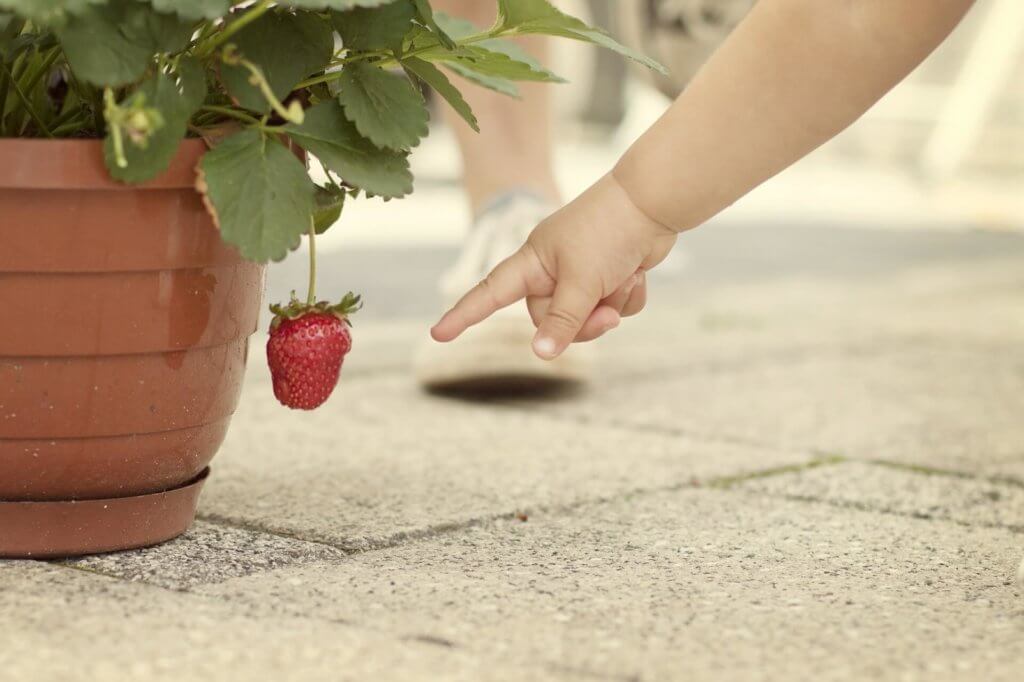 But if there is something that a real lover of strawberries enjoys is eating a strawberry grown by them in their own garden. Yes, as you read it. Growing strawberries is one of the activities that has been getting the attention of several people, who may need some advice to do it.
Cultivating strawberries is really an art. It needs certain specific conditions and activities so that it can be done without any problem, especially if you want to grow them in your house in a pot. You cannot start without having any prior knowledge. That is why today, you will know how to grow strawberries in pots from seeds.
Grow strawberries in pots: The basics
Strawberries can grow from seeds and even small roots. But if you want to start your own garden, grow them from seeds. In that way, it will be much easier to decide where they will grow so they can also germinate easier.
These fruits do not grow at any time of the year, so we recommend planting them in late winter or early spring. Then, the climate is already becoming just what they need.
Another feature that enchants all garden lovers is that strawberries are a very easy crop to grow. Strawberries do not need much sunlight to grow. They will grow well even if they have access to only 6 hours of sunlight. Therefore, you should not invest a lot of time in getting them a suitable place. In addition, their seeds tend to germinate quickly.
Strawberry seeds are quite easy to get, you can get them mainly in nurseries. There are always strawberry seeds but also remember that you can also use the ones that you take from the strawberries that you eat. There are several methods so you just have to be careful.
Another advantage of strawberries is that you can plant them in a pot. It is not necessary to allocate a giant space for them in your garden since a simple pot will do. It does not even have to be a very big one.
In this way, as stated before, you do not have to choose an elaborated space to place your new strawberries while they grow. It's your decision.
The sowing of your new strawberries
Strawberries are a cold-resistant crop. They grow either in warm or cold areas, although it is recommended to plant them at a specific temperature and time of the year. Whatever you choose, surely the harvest will bear fruit since it is not very difficult.
If you have your pot ready, the next step is to get the fertilized soil. Strawberries like manure in abundance because they need to have several nutrients to grow to their ideal size. Also, nobody likes a small strawberry.
On the other hand, the soil should be well hydrated but that does not mean it must be flooded. You see, strawberries grow in a hydrated environment but not too full of water because in that case, they won't be able to grow as they should.
The plant is sensitive to moisture, so check that the pot has good drainage. After these steps, your strawberry seeds are ready to grow. Look for ways to sow the seeds so that they all have the space they need.
For this, it is recommended to plant the seeds 10 cm apart from each other, so they will have room to grow healthy and won't collide with each other. In addition to that, they can absorb the water without any problem.
Tips that will make your strawberries grow better
Once they are in the pots, we recommend placing them in a place close to the sun. Not one where they receive intense sunlight throughout the day, but also may have some shade. The thing here is that the heat makes them grow a little faster than when they are in only under the shade.
On the other hand, regarding the pruning, you should pay close attention. If you already have the necessary utensils, I recommend that you are quite aware of the weeds that are born around the strawberries. When you see those annoying leaves cut them as fast as possible.
Also, if you want your strawberries to grow faster, prune the first flowers that are born. This is a little trick handed down from generation to generation. Because the flowers will tend to fruit and your plants are still young at that time so it will weaken the plant and it will also bear small fruits because the strawberries are not mature enough.
In this way, if you want to improve the growth of your strawberries in the pot, you can keep the humidity by making a straw padding, so the excess is filtered but still, the nutrients will arrive without problem. In addition, this prevents the development of weeds.
Finally, you can make tunnels with wire and poles so that you protect the strawberries if the temperature is too cold. This also accelerates the ripening of the fruits.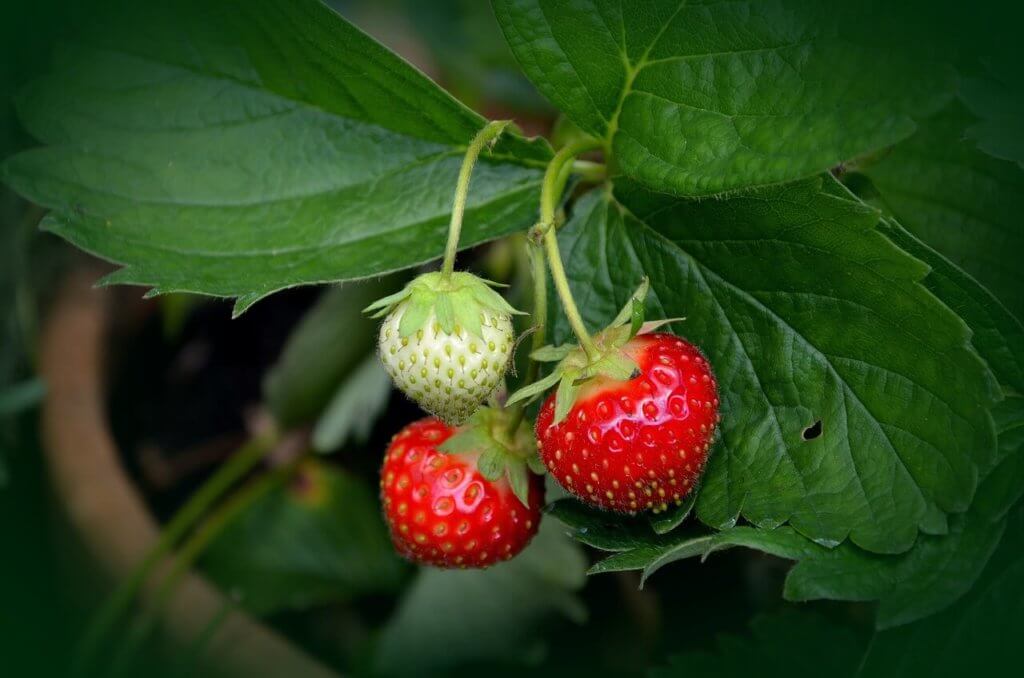 Prevent Strawberries from Plagues and diseases:
Strawberries, like any other plant, can get sick for several reasons and even have plagues. An example is one that is quite frequent among strawberries. As such, it is a type of powdery mildew that is noticed by the appearance of a greyish – white layer of spores on the underside of the leaves.
Another disease that can be mentioned is the one known as the Zonal Spots. If you want to know if your strawberry suffers from this disease, check its leaves. If you see yellow or brown spots on them, and also their petioles are blackened, in effect, your strawberries have Zonal spots.
This last disease is very common with strawberries that are planted in pots, so be careful since it can cause the natural leaves of the plant to fall.
Another type of common diseases are due to the pest attacks by red spider, the aphids, the wireworm and even slugs. You must be very attentive to these diseases because they can infect the harvest of strawberries.
Harvesting the pot strawberries
Strawberries in pots tend to grow quickly. Obviously, you should wait a few weeks, but it is relatively fast compared to other fruits. And maybe because of so much anxiety, this time may feel really long, but in reality, it is quite short.
Now, the time required has passed and you only have to check the results. You can say that your harvest of strawberries is completely ready when you see an intense red color in them. The strawberries will then be ready to be collected.
Remember that you must collect them leaving the stem intact so that you can continue to grow more strawberries in pots. By the way, you should tear them fast. This keeps the freshness of the fruits. Try to have a special basket for this harvest that is fresh so the fruits do not become soft while having them all together.
One of the real advantages of planting strawberries in pots is that you can keep them under surveillance. You can do it any time you want and water them once a day, it will truly be a pleasure.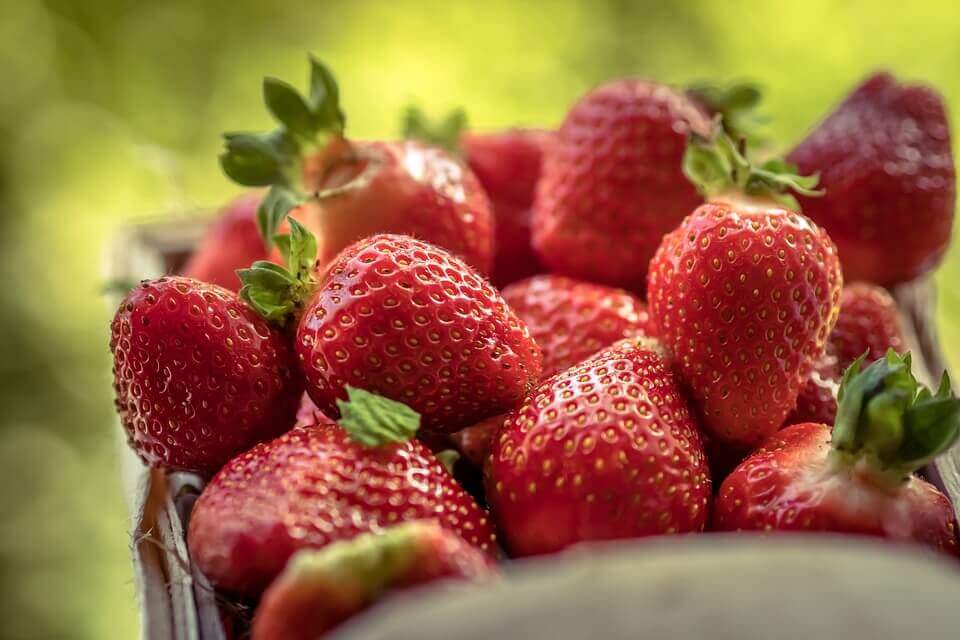 Benefits of planting strawberries
The main benefits of planting strawberries are that you will have your own harvest of this delicious fruit. There is nothing as satisfying as eating from what you have cultivated yourself; it is a pretty beautiful feeling of self-sufficiency.
On the other hand, you will also have a healthy snack. Strawberries are one of the most exquisite fruits in the whole world and it is due to its aphrodisiac taste. You can eat them with chocolate, condensed milk and even a delicious fruit salad at snack time. Everything is on your side.
Strawberries have a great history that keeps moving forward and becomes part of the present. You can enjoy your own harvest of strawberries either in salads, in snacks, in juices and even in yoghurt. There is no limit! Give your imagination a free rein!
Keep In Touch by Subscribing our Newsletter!
Last tips on Planting Strawberries:
Planting strawberries is something important nowadays for all gardening and orchards lovers. Having your own harvest fills you with pride and also gives you something to share with friends or family when they visit you.
Planting strawberries in pots is an interesting idea because it allows you to do it even in your own room. Strawberries, also, have vitamin C, E, A and B, which are good for your body.
These fruits are the favorite ones to make desserts since they grow before others.
Give these fruits a chance and you will see how planting strawberries in pots from seeds will be a great hobby for you if you're a gardening enthusiast and want to keep yourself busy by taking care of your own harvest of this worldwide loved fruit.